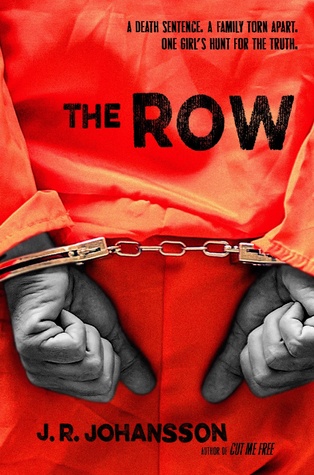 Book Title:
 The Row
Author: 
J.R. Johansson
Series: 
N/A (Standalone)
Publication Date: 
October 11th 2016
Genres:
 Contemporary, Suspense, Thriller, Young Adult
My Rating:
 5 out of 5 stars
A death sentence. A family torn apart. One girl's hunt for the truth.

Seventeen-year-old Riley Beckett is no stranger to prison. Her father is a convicted serial killer on death row who has always maintained that he was falsely accused. Riley has never missed a single visit with her father. She wholeheartedly believes that he is innocent.

Then, a month before the execution date, Riley's world is rocked when, in an attempt to help her move on, her father secretly confesses to her that he actually did carry out the murders. He takes it back almost immediately, but she cannot forget what he's told her. Determined to uncover the truth for her own sake, she discovers something that will forever change everything she's believed about the family she loves.
---
MY THOUGHTS
Goddamn! This book is amazing. From the moment I read the summary, I knew I would enjoy this but I didn't expect that I would love this so much. I think I read this book in less than a day, and considering how slow of a reader I've become, that just shows how much I've enjoyed reading this one.
To start off with this review, let me just say that this is very well-written. The scenes, however intense, are really easy to follow. Also, the way how the author gives  information a bit at a time didn't irritate me as I thought it would. It just made me want to devour the book more.
Riley's character, the protagonist, is also very well-written. Her emotions practically seep through the pages which made me empathize for her, and the character development is really evident. The things she was going through were really hard and I think the author did a great job in making Riley's response to the situation realistic. Also, I like how Riley took it upon herself to find the answers she needs and not try to change her dad's case because, let's face it, what difference can a 17 year old make as compared to professionals. Likewise, I also appreciate how the other characters gradually become more open in giving Riley answers instead of thinking of her as a six year-old kid.
Moving on to Jordan, that perfect human being. I love him so much. He is really caring, determined, honest and smart. He also let his emotions take control at times which just shows that he is human too, and I absolutely love him for that. I honestly think that this book could have done with more scenes of Jordan and Riley because the romance here wasn't really emphasized much. But I also think that the romance was perfect just the way it is. I don't really understand myself, to be honest.
And can I talk about Matthew for a bit? He is Jordan's younger brother and he just makes me smile! Scenes with Matthew are just so refreshing from the heavy drama related to the main plot. I miss that little ball of sunshine already. Now I want a younger brother as much as ever!
On the other hand, the mystery aspect in this book is great. I had a few guesses every now and then but I did not anticipate how things would unfold. The ending is amazing and I wouldn't have it any other way.
Overall, I really enjoyed this book and I recommend this to lovers of contemporary thriller. I can't wait to try Johansson's other works!
All book cover photos and book info (such as summary, publication, etc.) are taken from Goodreads.