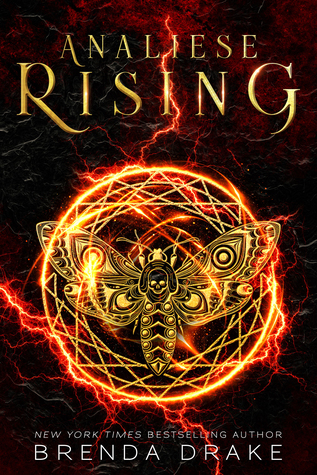 Book Title: Analiese Rising
Author: Brenda Drake
Series: Standalone
Publication Date: January 8th 2019
Genres: Fantasy, Young Adult
My Rating: 4 out of 5 stars
Half-Blood meets Antigoddess in a thrilling, romantic new series from New York Times bestselling author Brenda Drake.

When a stranger gives Analiese Jordan a list of names before he dies, the last thing she expects to see is her own on it. Not. Cool. Her search for answers leads to the man's grandson, Marek, who has dangerous secrets of his own. Both are determined to unlock the mystery of the list.

But the truth is deadly. Analiese is a descendant of the God of Death, known as a Riser, with the power to raise the dead and control them. Finding out she has hidden powers? Cool. Finding out she turns corpses into killers? No, thank you.

Now the trail plants her and Marek in the middle of a war between gods who apparently want to raise an army of the Risen, and Analiese must figure out how to save the world—from herself.
---
I received a copy of this book from the publisher via Netgalley (thank you!) in exchange for an honest review. I voluntarily read and reviewed an advanced copy of this book. All thoughts and opinions are my own.
MY THOUGHTS
Whew. This is one of those books that leaves me feeling soooo exhausted after reading it. In an incredibly good way, of course. Brenda Drake has written a rich, intriguing adventure in Analiese Rising that will surely make readers exhilarated with every flip of a page.
Our main character, Analiese, together with the strangely charming Marek, goes on the hunt for whatever the heck Marek's grandfather wanted them to find. With the cryptic clues and no one to trust but each other, would they survive the they find themselves smack right in the middle of?
This book revolves around mythology, and once I saw that on the synopsis, I couldn't have hit the request button fast enough! And as if that's not good enough, this wasn't focused or set on one particular culture or time period, but it involves different mythologies around the world instead. It was so much fun to read about the gods and goddesses from different cultures, and to see them in the light of the author's story. (Oh, and also, I may or may not have screamed at the mention of Philippine mythology. Sue me, I just don't know any other books like this. *wink wink*)
With regards to the plot, I was not disappointed at all! Their excursion was full of surprises which always keeps me on my toes, especially since all of it leads to back-to-back discoveries. And the main character was one I've come to feel for. Analiese wasn't the most ideal protagonist for this but that's exactly why I liked her. It must be so hard to have been plunged in this quest without having an inkling of what it holds. And it wasn't even her own quest to begin with, for Pete's sake! But I admire Analiese as she never gave up despite the constant panic attacks, despite the uncertainty of what lies ahead, despite the danger she knows will inevitably catch up to them. And although I do think that the book could have done with a little less romance (i.e. Analiese checking Marek out), I understand that they are scared out of their wits and need each other to hold onto.
The only downside for me was the ending. It left me quite… unsettled. I certainly wasn't expecting that and I feel like I needed something more. And there was the writing style too; halting and dull sometimes but I didn't really mind as the plot won me over. Overall, I really did enjoy this book. I recommend this one if you're looking for an adventure!