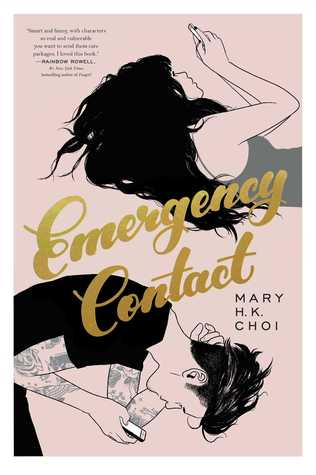 Book Title: Emergency Contact
Author: Mary H.K. Choi
Series: None (Standalone)
Publication Date: May 27th 2018
Genres: Contemporary, Romance, Young Adult
My Rating: 3 out of 5 stars
For Penny Lee high school was a total nonevent. Her friends were okay, her grades were fine, and while she somehow managed to land a boyfriend, he doesn't actually know anything about her. When Penny heads to college in Austin, Texas, to learn how to become a writer, it's seventy-nine miles and a zillion light years away from everything she can't wait to leave behind.

Sam's stuck. Literally, figuratively, emotionally, financially. He works at a café and sleeps there too, on a mattress on the floor of an empty storage room upstairs. He knows that this is the god-awful chapter of his life that will serve as inspiration for when he's a famous movie director but right this second the seventeen bucks in his checking account and his dying laptop are really testing him.

When Sam and Penny cross paths it's less meet-cute and more a collision of unbearable awkwardness. Still, they swap numbers and stay in touch—via text—and soon become digitally inseparable, sharing their deepest anxieties and secret dreams without the humiliating weirdness of having to see each other.
MY THOUGHTS
Ahhh, I'm still really unsure of the rating I gave this one. I'm considering reducing this to a 2-star but I can't make up my mind. While the overall plot of the book was enjoyable and it really did made me gush at times, I had a bit of a problem with the main character.
[Before anything else, I would like to mention that rape has been discussed in this book.]
I like the idea of two people being each other's support. In this book's case, they did justice to the title. Sam and Penny really were each other's emergency contact because they depended on one another whether experiencing something awful or just couldn't decide which outfit to wear. Also, Emergency Contact has a slow burn romance that is just so amazingly satisfying to read especially when reading in a coffee shop (like I did).
The dialogue between Sam and Penny, both in person and via text, were so fun to read. While they are light and witty most of the time, they can talk about heavy stuff too. They console each other about the problems they are both facing separately and they try their best to be there for each other.
Although I was a bit underwhelmed by the resolution at the end with both the romance and familial aspects, I really did like the story. However, the primary thing that made me tick off a star from my supposed 4-star rating was Penny. I haven't read any reviews before borrowing this book from a friend so I didn't know what I was in for character-wise. Penny is so judgmental! She doesn't like when people stereotype her, being an Asian, but she has literally done that herself. The thing that probably infuriated me the most was calling her own mother a MILF. Like, what sane teenager does that? At one point, I contemplated just DNF-ing this but I decided to power through.
I consider my 3-star rating for this as quite generous. Seeing that I've really enjoyed the plot itself, the main character just really got into my nerves. I suggest you avoid this unless you can deal with that type of attitude from a main character.
---
DISCLAIMER: By clicking the Amazon and Book Depository buttons, you will be directed to my affiliate links for the respective sites. If you purchase the book using my link, you have supported me and my blog since I will get a small commission at no additional cost to you. Thank you!