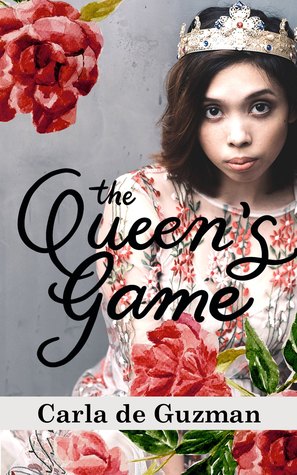 Book Title: The Queen's Game
Author: Carla de Guzman
Series: N/A (Standalone)
Publisher: Midnight Books
Publication Date: August 1st 2017
Genres: Contemporary, Romance, Adult
My Rating: 4 out of 5 stars
Goodreads Amazon #romanceclass
There are only two reasons why Nina would come back home to Cincamarre–one, if Auntie Delia promises to stop butting into her business, two, if her father died and she was made to ascend the throne to be queen.

Unfortunately for her, it was the second thing that brought her home.

As a princess who's sunk a yacht and been caught kissing popstars, it's easy for her aunt, the regent, to think she's ill prepared for the throne. But Nina doesn't think that having to fake date Felipe, the handsome, squeaky clean Prince of Concordia was the best solution for that.

Nina's ready to learn the ropes of her new role and make it hers, and reconnecting with Felipe only makes her want to be a better queen. But is the monarchy ready for Queen Nina?
---
MY THOUGHTS
Y'ALL! This is my first ever #romanceclass and adult read, and I am so glad to have started with The Queen's Game. Since I normally only read young adult and middle grade books, this one felt a teeny bit weird to read. Granted, this is a book intended for adult, a different audience, but nevertheless, I still thoroughly enjoyed this!
When I first read the synopsis, I was immediately sold. The fact that this was on sale on Kindle when I bought it was an added bonus! Royalty is one of my weaknesses when it comes to tropes and this one was incorporated with Philippine culture, and I AM SCREAMING!!! I loved seeing glimpses of our culture in the otherwise fantasy land of Cincamarre. It really warms my heart.
Aside from having a gorgeous name, Saturnina Inez Mercado, our main character, is a kick-ass woman that does not take shit from others when it comes to her life.  She has her own distinct personality! Also, being born as the king's daughter and the next in line for the throne really puts a lot of expectations on her. I admire Nina for being her own person and not conceding to the norms set by her aunt and the title she holds. And Felipe, her love interest, is such a—and I cannot stress this enough—precious human being! Despite Nina's horrid reputation, Felipe still believes that she can do wonders for her nation on her own. He has been a constant pillar of support for her and that is the energy I'm looking for in a relationship. Not to mention his swoon-worthy letters to Nina! *faints*
However, this book was too fast-paced for my liking. With only 165 pages, this one really was a whirlwind and I would have loved it if I got to spend more time with Nina and Felipe. Regardless, the romance here is just so sweet and got me smiling so much!
I feel so delighted to have supported, read and loved a book by a Filipino author. I highly recommend you read this one! I can feel that this is the beginning of my #romanceclass addiction.
Disclaimer: Amazon and Book Depo buttons above direct you to my affiliate links. Purchase from those help me and my blog out tremendously at no additional cost for you!