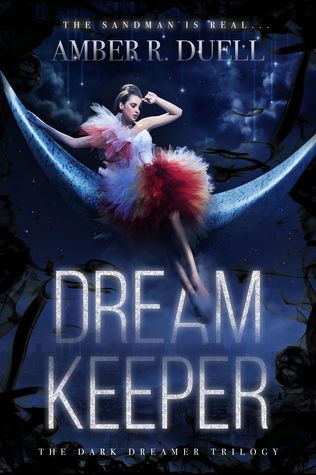 Book Title: Dream Keeper
Author: Amber R. Duell
Series: The Dark Dreamer Trilogy #1
Publication Date: January 29th 2019
Genres: Fantasy, Young Adult
My Rating: 5 out of 5 stars
The Sandman is seventeen-year-old Nora's closest friend and best-kept secret. He has to be, if she doesn't want a one-way ticket back to the psychiatrist. It took her too long to learn not to mention the hooded figure in her dreams to her mother, who still watches Nora as if she'll crack. So when Nora's friends start mysteriously dying gruesome deaths in their sleep, she isn't altogether surprised when the police direct their suspicion at her. The Sandman is the only one she can turn to for answers. But the truth might be more than she bargained for…

For the last five years, the Sandman has spent every night protecting Nora. When he hid the secret to the Nightmare Lord's escape inside her dreams, he never expected to fall in love with her. Neither did he think his nemesis would find her so quickly, but there's no mistaking his cruel handiwork. The Nightmare Lord is tired of playing by the rules and will do anything to release his deadly nightmares into the world, even if that means tormenting Nora until she breaks.

When the Nightmare Lord kidnaps Nora's sister, Nora must enter enemy territory to save her. The Sandman is determined to help, but if Nora isn't careful, she could lose even more than her family to the darkness.
(Please note: This story contains vivid death scenes.)
---
I received a copy of this book from Netgalley (thank you!) in exchange for an honest review. This does not influence my thoughts in any way.
MY THOUGHTS
Dreams have always given me a certain kind of fascination. I don't think I've read much books about dreams except for Dreamology which is a contemporary. But this… This is exactly what I've wanted! When I first heard of Dream Keeper, I was—to put it midly— interested. And when I saw this available for request on NetGalley, I was very excited. So I guess you can imagine my (joyous) outburst when I got approved for it!
This is nothing like I've read before. Dream Keeper is told in two perspectives, Nora and The Sandman, and it follows both their journey in saving the people they love (for Nora, her sister, and for The Sandman, well, Nora) and the whole world along with it.
The Dream Realm and the Nightmare Realm, a whole other world once everyone falls asleep, were really amusing to read about. Written very well, I especially loved the spooky vibe that the Nightmare Realm gave and the ghastly things inside it.
The death scenes mentioned in the synopsis really were horrid so fair warning if you're not comfortable with that, maybe skip those particular parts? But I'm not really bothered by that kind of thing so those scenes combined with the vivid description of each and every nightmare, added much more to the eerie reading experience.
Nora, our main character, can be a bit immature at times and although I don't agree with some of her decisions, I still very much like her strong personality. Despite her overwhelming fear, and even though there's nobody she can turn to except for The Sandman, she maintains headstrong to save her family and the whole world along with it. I mean, who wouldn't admire that? Her mother thinks she's crazy, people around her are dying and she's considered the main suspect. If I were in her shoes, I would have broken down in a heartbeat.
A very interesting and unique plot? Check. Amazing world building? Check. A strong female main character? Check. Fantastic writing? Check. I highly recommend you include this book in your TBR—or, much better, read it immediately!
---
DISCLAIMER: By clicking the Amazon and Book Depository buttons, you will be directed to my affiliate links for the respective sites. If you purchase the book using my link, you have supported me and my blog since I will get a small commission at no additional cost to you. Thank you!